The Carousel
The 1912 C.W. Parker Carousel.
Patriot – Lead Horse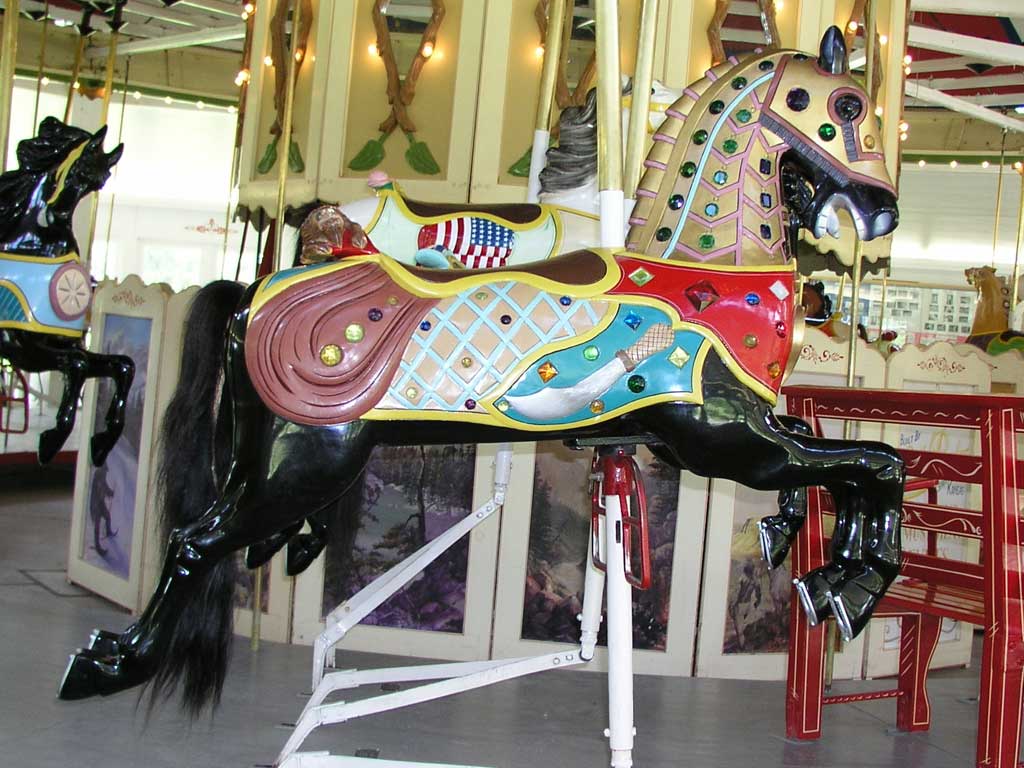 Lead horses are traditionally armored horses. Patriot was adopted in the name of Dan Gosnell, the carousel restoration artist, by the Friends of Crossroads Village Carousel.
Outside Row Horses, Kiddie Horses, Dragon Chariot
Photo Credit: Gary Nance, Clifford Black
Rounding Boards
There are 14 decorative rounding boards encircling the top of the carousel. Each rounding board consists of a scenic painting surrounded by decorative mouldings, red roses with green foliage, painted elements, framed mirrors, and colorful lights.
The rounding boards depict scenes including:
Indian on horseback at sunset
Horses pulling covered wagon
Winter snow scene
Paddle steamer on the water
C.W. Parker company name and location
Artizan Band Organ
This rare Artizan Factories Inc. Style A military band organ was manufactured in North Tonawonda, New York, circa 1925 and has 46 keys. The band organ has been converted to utilize Wurlitzer 125 organ rolls. Purchased in 1983 for $13,250 with fund provided by a grant from the C.S. Mott Foundation.
Carousel Building

Built in 1989, the octagon-shaped carousel building protects the carousel from the elements and allows for cold weather operation at Halloween and Christmas. The building is glass on six sides, allowing natural light into the space and viewing of the carousel from outside.
Carousel Building Weathervane
The weathervane on the top of the carousel building was custom made for the Friends of Crossroads Village Carousel by SkyArt & Gallery in Connecticut. It is hand-formed copper and modeled after Chief on our carousel. The weathervane was commissioned in 2004 after a generous donation from Ray Jones in memory of his wife Jeanette Jones. The weathervane is a beautiful finish to the carousel building!
Penny Press
Take home a pressed penny souvenir of your visit to Crossroads Village!
Pick one of four engraved designs (Carousel, Parker Superior Wheel, Huckleberry Railroad, or Genesee Belle), insert 51¢, and crank the handle to press your penny. Special seasonal designs are available at Halloween and Christmas. Collect them all!
See all of our pressed penny designs at PennyCollector.com.
Collectors Tip: For best results, use a pre-1982 penny containing 95% copper. Newer pennies are 99% zinc with a thin copper coating; when pressed, the silver zinc may show through the engraved design.
Proceeds from pressed penny sales help support the preservation of our antique rides.